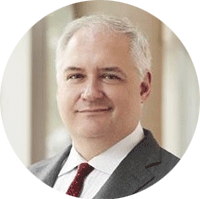 Karl Laskas is a global trade strategist who specializes in helping companies achieve breakthrough performance in cross-border operations.
Licensed as both an attorney specializing in international trade and a customs broker, Karl brings an unparalleled mix of subject matter expertise and supply chain operational insight.
He's served as the top global trade executive for two Fortune 50 companies, optimizing their customs operations while ensuring airtight compliance. As VP for Trade at Dell Technologies he implemented solutions that reduced trade costs to the lowest levels in company history and increased manufacturing throughput by 15%.
In his twenty-four years of international experience, Karl has helped clients in nearly every country transform their trade operations for success in a constantly changing regulatory landscape. Karl earned his law degree from the University of Virginia, a Master's degree in International Relations from Yale, and a Bachelor's degree in Political Science from the University of Pittsburgh.